An interview with Grant Programmes Manager, Harriette Tillott
Whether you're still waving your Union Jacks high, or if the corgi drones already feel like a distant memory, there's no doubt that the Platinum Jubilee was a celebration to remember. For us, it was all the more exciting as it was the culmination of our Let's Create Jubilee Fund, which we distributed in London on behalf of Arts Council England and UK Community Foundations.
Since the official launch of the fund in April, we have been busy attending rehearsals and meeting the community organisations across London who are working with artists to celebrate this historic occasion. Grant Programmes Manager Harriette was lucky enough to attend a few of the events – she tells us her key takeaways and highlights.

A weekend to remember

While formal Jubilee celebrations were underway around Buckingham Palace, The London Community Foundation, alongside 44 other community foundations nationwide, funded 71 creative projects. This could be music, theatre, dance, visual arts, literature, combined arts, museums and libraries.
The brief from the Arts Council focused on two areas: 'high quality' and 'inclusive'. After visiting some of the projects and speaking to others, it is clear that this aim has been achieved. The projects spread across Greater London particularly involved people who may not usually take part in the arts or who have difficulty accessing them. I was also blown away by the professionalism of the projects. Considering the relatively small amount of funding, the groups were able to put on an impressive number of workshops and activities, culminating in a high-quality performance or art piece.
The timeline for the project was also tight at just two months from the confirmation of the grant being awarded right up to rehearsals, preparation and launch. Despite this, the staff and volunteers involved worked tirelessly and managed to get everything sorted in time! This is an incredible achievement and says a lot about the nature of community organisations.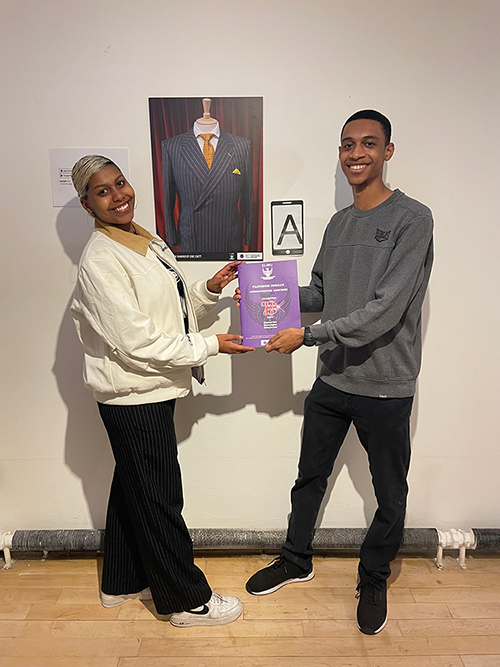 Exploring London's creative scene
We funded community groups working with puppet makers to embroiders, brass bands to steelpans, Bollywood dancers to a mosaic artist – the diversity is vast. We were lucky enough to visit a few of the groups in the weeks leading up to the big weekend, and over the bank holiday itself.
First up, we attended an over-50s choir rehearsal with In-Deep choir in Pimlico, where we sang along to music from the eras of Her Majesty's reign.
Next up was the opening ceremony of Elimu Mas Academy's Show Gayelle celebrating the creatives behind the Notting Hill Carnival – officially opened by Diane Abbott MP. We were even lucky enough to meet young creatives Imaan and Krystal who were part of the team who mastered the QR code and AR technologies on site.
Being a part of this Platinum Jubilee project, celebrating 70 years of British-Caribbean contributions, has allowed me to use different formats of storytelling. I was able to produce a short animation and document a world-renowned master tailor for the first time, which gave me the confidence and platform to push boundaries in how to involve augmented reality technology in community-led narratives. I really enjoyed highlighting the lives of Linett Kamala and Andrew Ramroop OBE, who were extremely supportive. It was emotional to see their career achievements brought to life using augmented technology. I want to thank the project organisers, Elimu Mas Academy, for providing the space to be creative, being my first-ever augmented exhibition.
Imaan Samson, producer for Elimu Mas Academy
The following week we helped Re-Instate put together the papier-mâché heads for their 'Big Heads Parade' celebration in Bexley. The organisation worked in partnership with artists Scott Burrell and James Frost, and supports people experiencing mental ill-health, people with learning disabilities and young people.
This was closely followed by a trip to Stitch! Crafts and Classes in Palmer's Green to view their hugely creative Jubilee tapestry. Artist Jill Kipnis and Manager Suzanne Kelly spoke very passionately about the mindfulness benefits of embroidery and this project in general, which involved members of the local Rainbows, Brownies and Girl Guides, and residents of a local care home. This also received support from Bambos Charalambous MP who commended the sense of community spirit surrounding the project.
It was a privilege to be asked by Suzanne at Stitch N13 to put the Jubilee Collage together. I feel passionate that everyone should have some craft in their life, not only for mindfulness but also for the joy it brings in creating something individual and unique. The project for me was inspiring in that it bought several communities together. I worked with children on free school meals, dementia patients to people who regularly create, and young people who had never picked up a needle and thread before. My embroidery teaching is all about inspiring and bringing people together; this collage certainly achieved this. Somewhere I hope I sowed a seed in the younger generation to go on and create as they are the future of textiles and craft. That is very much what I am about, to inspire in any way I can to get people to embroider to find inner peace and be creative through textiles.
Jill Kipnis, ACE-funded artist
We are so pleased to be working with our local community to create this Platinum Jubilee commemorative piece. To have been part of this creative project at an important moment in this country's history is really exciting and worthwhile.
Suzanne Kelly, Manager of Stitch! Crafts and Classes
Some other highlights included seeing the HUGE smiles on the faces of children watching the fire show at Paddington Arts show! Lots of children might not usually get free access to this type of entertainment, so it really was brilliant seeing the benefits of the final event.
Finally on Sunday 5 June at Resonate Arts afternoon tea at The Wallace Collection, an older woman taking part shared a special moment with a pianist working on the project. While he was sat playing and singing, she joined him and together they broke out into a lovely song! She proceeded to take over and start playing the piano and singing to all the attendees – it really was a special moment.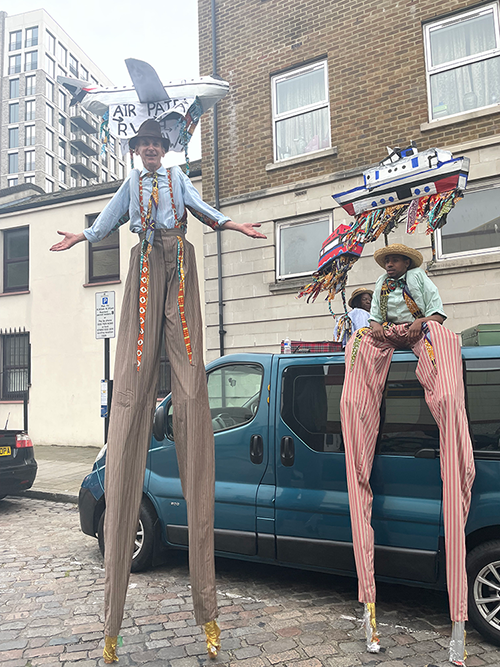 From start to finish, it has been a pleasure assessing the applications for this fund, through to seeing them come to life on the big day. Congratulations to all those involved for putting on such a vibrant cultural celebration.
If your organisation has any more photos or quotes to share from your own Let's Create Jubilee funded projects, please send them to photos@londoncf.org.uk.