The 25th November 2020 marked the start of 16 days of activism- a global initiative led by the United Nations aimed at raising awareness of gender based violence around the world.
The London Community Foundation (LCF) joined the online campaign, highlighting our VAWG work and support available to London's grassroots groups through the MOPAC-funded VAWG Grassroots Fund. We highlighted the need to fight against online harassment, domestic violence, honour-based violence, FGM and other types of VAWG.
#Orangetheworld, & #16daysofActivism were the main social media hashtags that drove online engagement. The global response has been delightful and it has been great to see case studies of how communities across the world are fighting to end violence against women and girls.
During this period, we saw an increased engagement in the fund, ensuring that the VAWG fund reached a wide range of communities across London.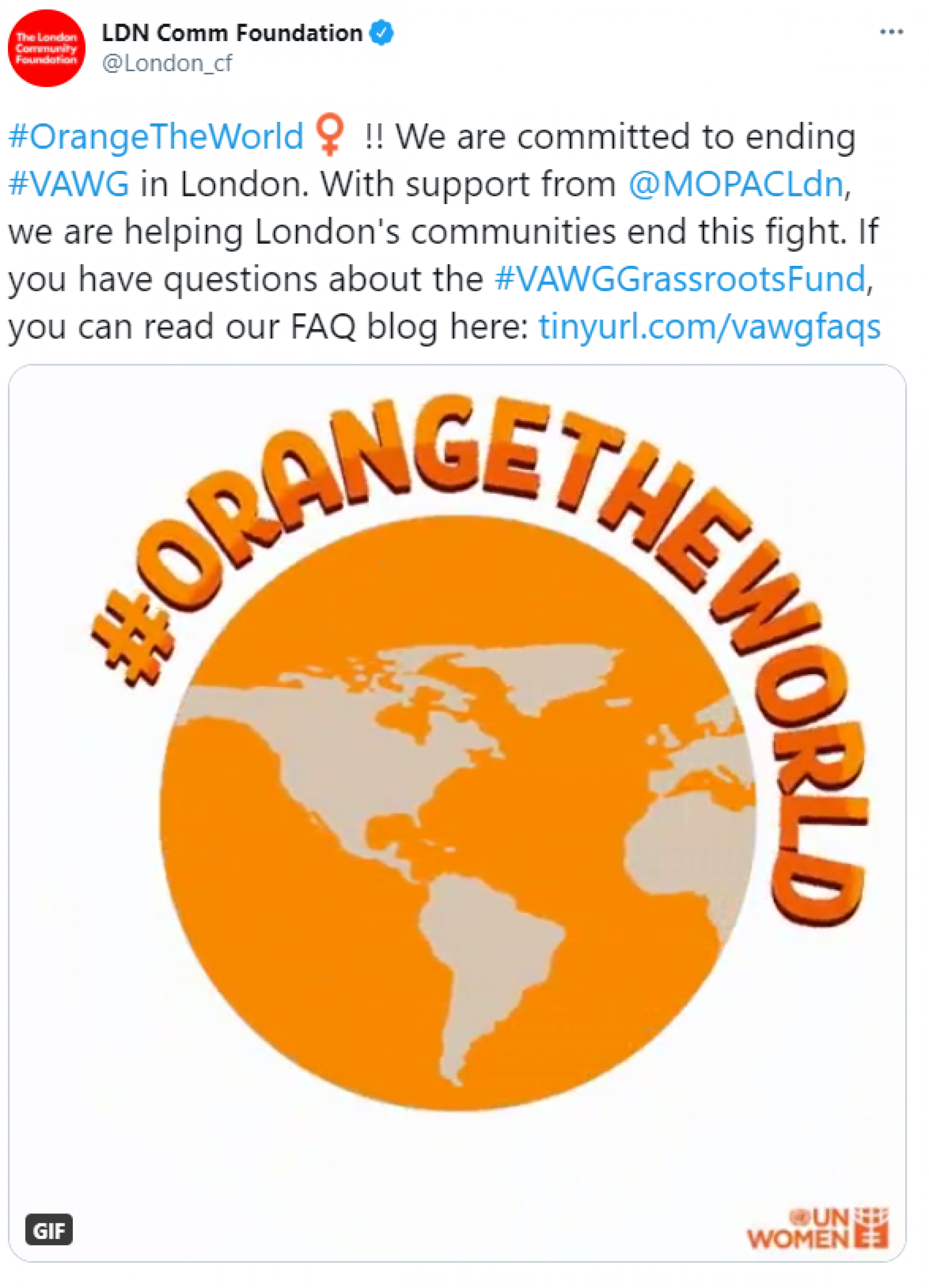 In addition to this, we continued to provide support for VAWG focused groups through the London Community Response Fund (LCRF), an online portal for grassroots organisations to apply for emergency and response funding during the coronavirus crisis with over 60 London funders sitting behind it, including LCF.
16 days of activism was an excellent opportunity to recognise the work of groups across London. Including the likes of Sister Space, Aanchal Women's Aid, Anima Youth and many more. These groups and many more have received LCRF funding and continue to meet the needs of women and girls in their communities.
What's Next?
In line with the Mayor's VAWG strategy, we continue to provide capacity building support for groups. We have had excellent response to the VAWG Grassroots Fund and expect funding decisions in early March. Capacity building support will be is an innovative element of this fund. Through our partner TSIP, we will be ensuring that groups receive the required organisational support strategies they need so they can continue to meet the needs of their communities.
We will continue to share tips and events that will add value to the sector across our social media platforms.