Last week we were invited to join the UK team at Cellnex UK for a webinar to mark 'Get Online Week'. The webinar showcased initiatives, supported by Cellnex UK, that promote digital inclusion across London.
Cellnex UK is part of Cellnex Telecom, Europe's leading operator of wireless telecommunications infrastructures. Cellnex UK provides digital connectivity for millions of people up and down the country every day. Our partnership with Cellnex UK enabled us to support ten organisations who work with marginalised and vulnerable Londoners last year, positively impacting the lives of 911 people in the capital. This year, Cellnex UK is continuing to fund four of those organisations, providing equipment, skills and support to combat digital exclusion.
The internet and digital services have become increasingly embedded and relevant to our everyday lives, making digital literacy not just desirable, but essential to many people's way of life. Digital inclusion works to improve and support people's digital skills, accessibility and connectivity to ensure they are not left behind as this technology advances.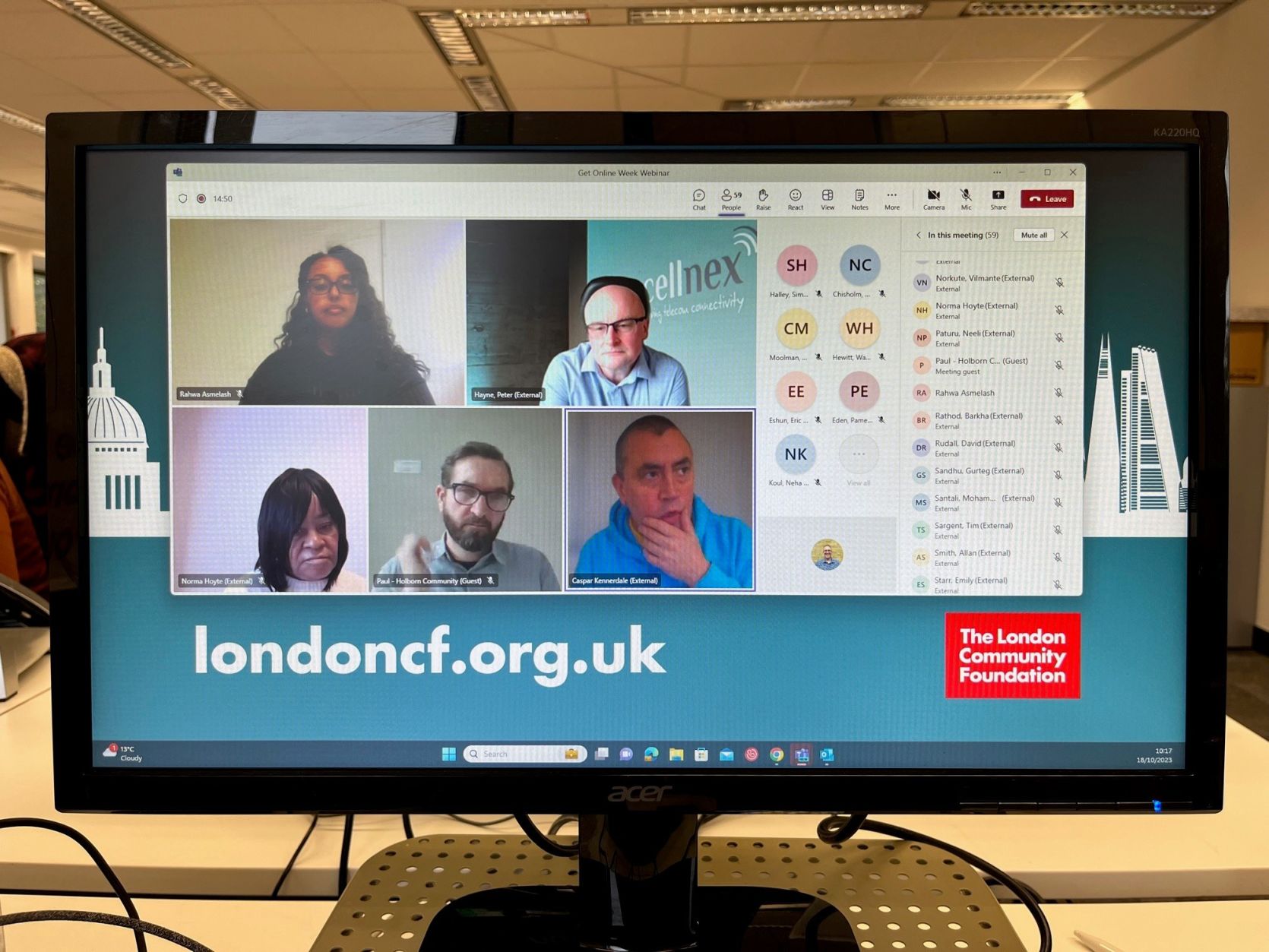 During the webinar, we heard from representatives of three organisations – Norma from PLIAS Resettlement, Paul from Holborn Community Association and Caspar from ClearCommunityWeb. Each of these local grassroots organisations are well positioned to establish trust, uniting and supporting their communities especially those who often get left behind by larger organisations and local authorities. Their support enables people to build their confidence, safety and peace of mind for greater independence online. It removes barriers to public services and funds that would be insurmountable without reliable digital connectivity. Organisations like this help reduce isolation and provide greater access to information – especially those who don't have internet access and digital devices at home. All of this thanks to the funding generously provided by Cellnex UK.

The funding from Cellnex UK and The London Community Foundation has been a lifeline to us as organisation but that lifeline is extended to the women escaping domestic abuse and their families.
Norma Hoyte, PLIAS Resettlement
PLIAS Resettlement are based in Brent and support people going through the criminal justice system, domestic abuse victims and those affected by sexual exploitation. PLIAS share with clients that have limited access to key services, how to complete grant applications, access welfare benefits and support their children to keep up with school work. Digital security can be a challenge too – especially when sharing devices with family members but needing to keep key information private. As a result of this programme, PLIAS have also been able to secure further funding, allowing them to add employability support for their clients too.


Having fun is really important, especially during the cost-of-living crisis – so often we give more focus to 'cost' and 'crisis' and forget about the need for 'living'
Paul Crozier, Holborn Community Association
Holborn Community Association operate a number of community centres across Holborn, with a particular focus on supporting young people. Initially the Cellnex funding helped to provide art workshops at the centres but these places have grown to become 'warm spaces' over the winter. Holborn Community Association commit to a "lifetime offer of support for their communities". The children who attend often have little access to either technology or data which can really hold back their learning. They are often facing a wide range of intersecting issues – including poverty, health inequalities, additional needs and food poverty. However, digital inclusion gives these children both status and aspiration and can be the key to setting them up for life.

I struggle with the term 'digital inclusion' – it's better to focus on how we ensure people are not being excluded. We need to find ways to create agency for those who are excluded digitally.
Caspar Kennerdale, ClearCommunityWeb
ClearCommunityWeb, based in South London, help older people, vulnerable adults, carers and families through classes, workshops and individual support. Their goal is to create spaces that help people feel safe and heard and that they belong - where people who might not be interested in digital find out what works for them. This includes weekly drop-in sessions where often the best support comes from other clients – supporting and learning from one another in a place of community. ClearCommunityWeb can provide clients with courses – both in person and online – on the latest tools and resources but it is the shared learning that builds trust and confidence and generates that sense of agency for those taking part.

Cellnex UK is proud to partner with the London Community Foundations to support the fantastic work of the PLIAS Resettlement, Holborn Community Association and ClearCommunityWeb. Digital poverty is a very real problem for some of the most vulnerable people in London, and it was hugely insightful to have Norma, Paul and Caspar talk to our colleagues about their organisations and the important work they do to reduce digital exclusion.
Peter Hayne, Community Relations Manager at Cellnex UK
It was a fascinating session and a great privilege to spend time hearing from Norma, Paul and Caspar. Thank you to Cellnex UK for allowing us to join them for their webinar and for all that they are doing to make a difference for those in London who need it most.
If you would like to know more about how your company can support local grassroots organisations like PLIAS Resettlement, Holborn Community Association and ClearCommunityWeb, please contact Harbi Jama at Harbi.Jama@londoncf.org.uk