Deutsche Bank is committed to building stronger and more inclusive communities in the regions that it operates. In the UK, this is clear through the bank's longstanding partnership with LCF.
Since our partnership began in 2005, the bank has given over £1 million and the Deutsche Bank Small Grants Fund has awarded 179 grants across 25 boroughs. Focusing funding on areas of most pressing need, the bank has previously concentrated on STEM projects and youth education through its 'Born to Be' initiative. Deutsche Bank is currently supporting projects that address mental health and wellbeing and reducing loneliness.
Grassroots organisations are the lifeblood of their communities, helping those most in need. We are extremely proud of our longstanding partnership with LCF through the Deutsche Bank Small Grants Fund that recognises the huge contribution these small charities make to their beneficiaries.
Nicole Lovett, Head of Corporate Social Responsibility UK, Deutsche Bank
In October 2018, we worked with Deutsche Bank to deliver the Tracey Emin and Deutsche Bank Centenary Fund. Celebrating 100 years of women's suffrage in the UK, Tracey Emin curated an exhibition of works by female artists during Frieze London during which she invited female artists to submit postcard-sized artworks to be sold at the event. £150,000 was raised in the sale with 100% of the funds to be given out as grants to five organisations working to support vulnerable women and girls.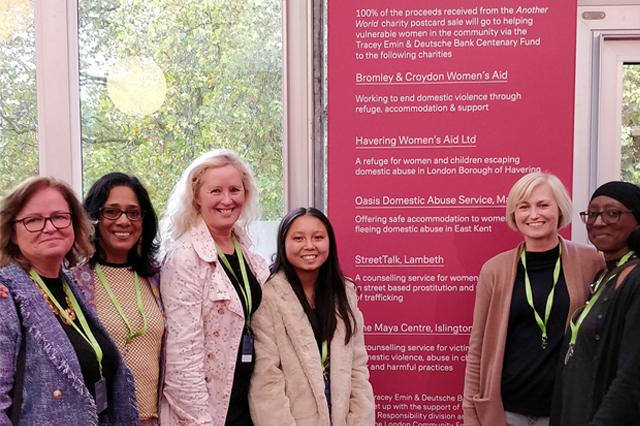 Charities supported through the Tracey Emin and Deutsche Bank Centenary Fund