Deutsche Bank is one of the world's leading financial service providers, with a longstanding commitment to building stronger and more inclusive communities in the regions where it operates. The bank partners with us to achieve this commitment in London.
Since our partnership began in 2005, Deutsche Bank has donated over £1.1 million and supported 190 community organisations across London. This significant contribution has impacted the lives of thousands of vulnerable and marginalised Londoners.
Now we are working with Deutsche Bank on two Community Funds. The Older People's Fund aims to support older people across the capital to reduce isolation and loneliness, and The Deutsche Bank Opportunity Fund helps tackle homelessness in the borough of Newham.
Our many years of partnership with the London Community Foundation have helped so many grassroots organisations reach those most in need across the capital. London Community Foundation's expert knowledge and insights help ensure our two funds can improve the lives of those most disadvantaged, as well as being part of long-term strategic change on pressing issues.
Amy Harris, Head of Corporate Social Responsibility UK at Deutsche Bank
For the Tracey Emin and Deutsche Bank Centenary Fund, celebrating 100 years of women's suffrage in the UK, Emin curated an exhibition of works by female artists during the Deutsche Bank sponsored Frieze London art fair. Emin invited female artists to submit postcard-sized artworks which were then sold at Frieze London. £150,000 was raised in the sale with 100% of the funds donated to community organisations working to support vulnerable women and girls.
Over the years we have worked with the bank to support issues from disaster relief during the Covid-19 outbreak, youth education and STEM projects for young people, to projects that address mental health, wellbeing and loneliness.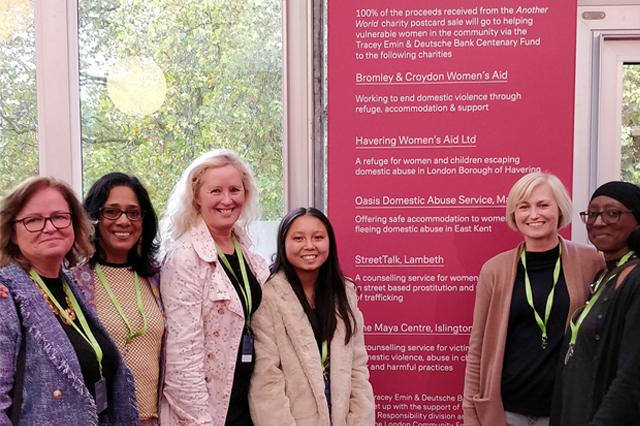 Charities supported through the Tracey Emin and Deutsche Bank Centenary Fund