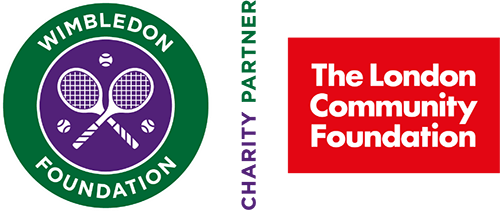 To celebrate the return of the US Open, we're serving up some tennis tales of our own from the Wimbledon Foundation!
The London Community Foundation has been partnering with the charitable arm of the world-famous tennis Championships since 2014. This month, we're celebrating a significant milestone in our partnership: Wimbledon Foundation has reached a combined total of over £2 million in grants to community organisations in Wandsworth and Merton through its funds managed by The London Community Foundation. An incredible £2,109,948 to be exact, across 247 grants.
Where it all began
Our flagship Wimbledon Foundation fund, the Wimbledon Foundation Community Fund was established to benefit the community and provide support for local organisations to meet local needs in the boroughs of Merton and Wandsworth. The current themes focus on improving health and wellbeing, providing access to learning, training and employment skills, improving access to advocacy, specialist support and advice for vulnerable groups, and encouraging participation in the community.
Each year, we open a new round for applications to support community organisations in these two London boroughs straddled by the world-famous All England Lawn Tennis Club. Since its inception, the Wimbledon Foundation Community Fund has awarded £820,000 through 167 grants over 12 rounds (2014-22).
Homelessness Fund
Since establishing the Community Fund, we have also collaborated on the Wimbledon Foundation Homelessness Fund, Wimbledon Foundation's first core costs grant programme, launched to mark the completion of the No. 1 Court roof in 2019. This fund saw four homeless charities – Glass Door, SPEAR, Ace of Clubs & The Spires Centre – share £428,716 over three years. Another organisation, Western Lodge, was awarded a one-off capital grant of £15,000. These charities provide practical and emotional care to help keep those affected by homelessness safe, and improve their health, wellbeing and skills to build a fulfilling life.
Partnering through the pandemic
Over the past two years, the Wimbledon Foundation became an even more invaluable partner. In March 2020, they moved quickly to allocate £464,781 of pledged funding to provide emergency funding to 55 charities caring for those most severely affected by the pandemic.
Most recently, the latest round of their fund, Wimbledon Foundation Community Fund + (WFCF+), has been set up to provide two-year continuation and development funding to smaller, user-led charities and community groups previously awarded a Wimbledon Foundation grant, to support post-COVID recovery and build sustainability.
In the second round, running in 2022, the WFCF+ allocated £197,157 in 10 grants. Recipients have provided quotes on what their WFCF+ awards mean to them:

We at FAST were thrilled to find out we were awarded the Wimbledon Foundation Community Fund + grant. The impact of the covid pandemic and lockdown has brought instability to society at large and this grant will help bring stability to FAST to ensure we can serve our community for the long run!
Kafui Brese, CEO of FAST
It is a big boost for our organisation to work with the Wimbledon Foundation Community Fund and will help Disabled people have their voices heard on issues that matter most to them! Disabled people in Merton who have seen increased challenges around accessing health care, social care and the rising cost of living.
David Jenkins, Chief Executive of Merton Centre for Independent Living
We are absolutely delighted to receive this grant, as it will allow us to continue to deliver our Community Choir. Self-expression is fantastic to help people to discover their voice, build confidence, friendships and neighbourly links.
Chas de Swiet, CEO of Sound Minds Community Choir
Long-term core cost funding is a vital tool for the future – giving charities the flexibility and sustainability they need to weather the storm of the cost-of-living crisis in particular. It is also testament to the trust the Wimbledon Foundation has in both grantees and partners. We very much look forward to continuing our trusted partnership with the Wimbledon Foundation for another brilliant year. Until then, enjoy The Open!
If you would like to learn more about setting up a fund to support your community, get in touch with our Director of Development and Communications, Laura, at laura.perkins@londoncf.org.uk.