What if you could no longer afford your phone or internet bill?
After the digital reckoning that was the pandemic, we began to recognise just how vital basic internet access has become in achieving many, if not most, things – from simple everyday tasks to online job or benefits applications. Internet access is no longer a luxury, it is an essential.
In the midst of the cost-of-living crisis, one of the major barriers to internet access – and therefore data inclusion – is affordability. Also known as data poverty. As the cost-of-living crisis deepens, around 2 million people may struggle to pay for broadband and mobile data bills this year (Ofcom 2022). Yet foregoing this essential utility can have devastating effects on employability, finances and wellbeing.
In 2022 The London Community Foundation began partnering with Europe's leading operator of wireless telecommunications infrastructures, Cellnex UK. We introduced Cellnex UK to 10 community organisations across London who work with marginalised and vulnerable Londoners who need support to get online. Through a generous commitment of £115,700 over one year, Cellnex's UK vital funding is providing equipment, skills, and support to vulnerable groups, including older people, refugees, low-income families and children.
As the cost-of-living crisis deepens, around 2 million people may struggle to pay for broadband and mobile data bills this year.
Ofcom 2022
The 10 funded community groups have been addressing digital exclusion through connecting vulnerable and disadvantaged people to digital training, equipment and devices. This vital support has increased the knowledge and confidence of those supported, unlocking further opportunities for them.
Having free access to equipment and training has helped local residents to search and apply for job opportunities. Children and young people from low-income families have been given access to the same opportunities as their peers, increasing their self-esteem and improving family relationships. Vulnerable adults have been able to access critical support, helping them to overcome financial struggles.
One of the groups supported was Dadihiye Somali Development Organisation, who provide Drop-In Advice Support Services to disadvantaged people in Kensington & Chelsea with low incomes, facing cultural and language barriers, and living in debt and ill health. Through their free drop-in services, Dadihiye have been able to support clients like 79-year-old L. who lives alone in a council flat in North Kensington. She has underlying health issues and is in rent arrears. Due to language barriers and lack of digital skills or IT knowledge, she needed support to not only understand letters she had received, but also to understand her rights and the services available for issues such as housing and benefits. Dadihiye liaised with the housing benefits team on L's behalf to successfully arrange an affordable payment plan. The client shared that she was thankful and could not have been able to manage this without their support.

The Employment Project has, in the words of hostel staff, "provided an absolute lifeline" to young homeless people.
Cellnex UK also provided IT equipment for YES Outdoors, who support disadvantaged young people and homeless young people in Camden. This funding helped the organisation to improve the delivery of their targeted Tutoring and Homework Club, along with their Employment Project by providing laptops and pre-paid dongles. Their Homework Club supported an average of 15 young people every week; enabling them to complete homework assignments for qualifications, submit online applications for jobs, and access online support services, all of which boosts their confidence and improves their career prospects. The Employment Project has, in the words of hostel staff, "provided an absolute lifeline" to young homeless people.
They even reported an additional, unexpected outcome – bringing young people closer to their families as a result of them becoming more motivated, gaining employment, and committing to a positive path. One young person on the Employment project had not been in contact with her family for some time and her relationship with her parents had completely broken down. The sessions with YES Outdoors helped to build her self-esteem and set goals to work towards. With their help, she studied for and passed her Level 1 qualification in Childcare and successfully secured a work placement on completion. Since then, she has pro-actively re-established contact with her family, and they are now communicating regularly.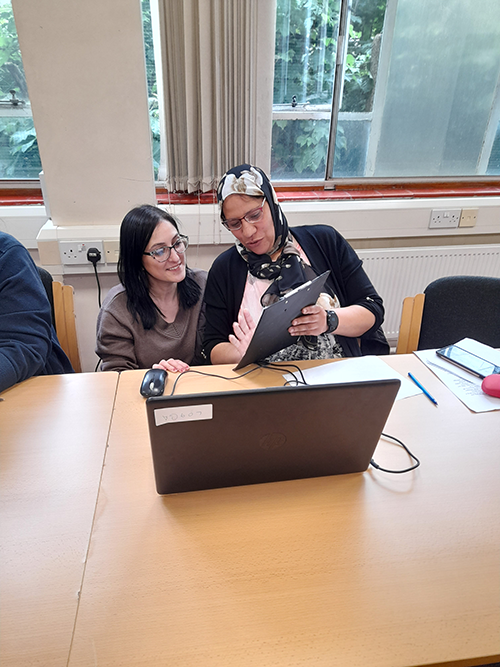 The stories shared here demonstrate how access to digital equipment and skills can empower individuals to take control of their own lives, whilst reducing feelings of isolation, all of which is key to creating digital inclusion. Access to these digital skills should be considered a human right, making the choice between heating, eating and getting online an impossible one.
Your donation to our Together for London appeal will help organisations like YES Outdoors and Dadihiye Somali Development Organisation continue to combat data poverty and get their communities access to this essential utility.