In times of crisis, we go into survival mode, shelving our plans for the future to focus on the urgent needs of the here and now. As the cost of living rises, many of us will feel this on a financial and wellbeing level. But young Londoners transitioning from interrupted education to a challenging jobs market find themselves at a crossroads. They must make the impossible choice between building a career for tomorrow or being able to pay their bills today, and between 'going it alone' in traditional educational routes or getting tailored, holistic support.
For our Skill Up Step Up partner, City Gateway, the solution lies in their apprenticeship programme.
Believe it or not, the first apprenticeship was established in 1563. Ever since, apprenticeships have been combining practical on-the-job and off-the-job training to give young people industry knowledge, transferable skills and behaviours, all while getting paid and working towards a nationally recognised qualification. But, while this may sound like the ideal scenario for some, many young Londoners are being priced out of this option amidst rising living costs.
For a young person who needs to support their family through the cost-of-living crisis, the choice between a supermarket job that pays £11/hour, or an apprenticeship paying the apprenticeship minimum wage of £4.81/hour is a difficult one. They are having to choose between a future they aspire to and the need to make ends meet right now.
Jenny Jordan, Head of Marketing and Outreach
City Gateway works with young people in London aged 16-24 not in education, employment or training who have been impacted by social and economic inequality. This could be experience of the care system or the challenges of unstable housing or homelessness. They support young carers, young people in debt, those who have had involvement with the criminal justice system, or have had to deal with substance abuse or bringing up a child as a lone parent.
Since the pandemic, more and more people are leaving school without a pass in English and Maths, and such has been the demand for City Gateway's courses from young people aged 16-18 – especially in East London where they are based – that their programme has grown by over 1,000%. This demand is forecast to continue to grow in 2023-24 as they plan to support 600 young people. This huge growth demonstrates deep gaps in education that are only exacerbating young people's chances of gaining employment upon leaving school. City Gateway offer their learners a clear career path, through a 22-week employability programme that includes digital skills, a work placement, and, if required, Maths and English boosters.
But it's not just about the skills they receive on paper. Their mission is to not only put apprenticeships at the front of these young Londoners' minds, but to remove the impossible decision of pay in the current economic climate altogether, by working with employers who have committed to paying their apprentices the London Living Wage of £11.95 per hour. City Gateway is also a safe space, providing a holistic service that incorporates learning, mental health support, a breakfast club and – particularly vital during the current cost-of-living crisis – a weekly food bank.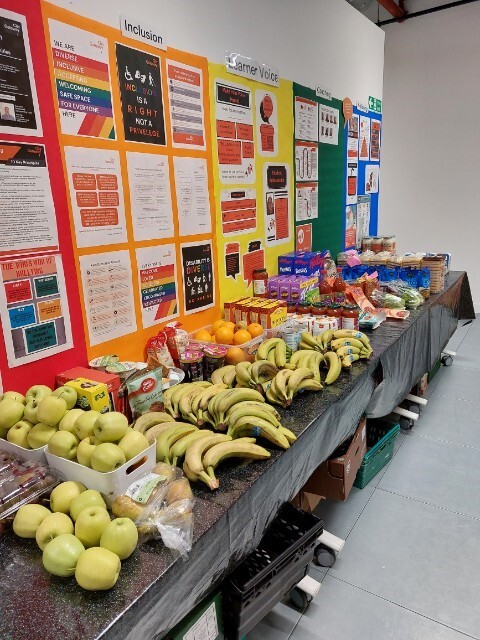 At City Gateway's National Apprenticeships Week event held at their offices on 7 February, we heard stories from young Londoners on the Level 3 Business Administration apprenticeship. They told us how COVID and the cost-of-living crisis led them to City Gateway and how their new roles in finance, IT, events and more are putting them on a path for success.
Zak and Miki are both apprentices at City Gateway itself. In the few months they have been working there, they have provided refreshing new perspectives and technological skill that have improved City Gateway's way of working. For Zak, feeling like a member of staff with 'real responsibilities' helps him gain the confidence to progress personally and professionally. Miki, meanwhile, says that not only does her apprenticeship give her valuable job experience, but access to mental health support that would not have been available to her in more traditional educational routes, thanks to her coach, Eugenie, a trained mental health first aider and Business Administration Apprenticeship Coach.

Mental health is a subject very close to my heart as, thanks to Covid, my teenager became a totally different person. I started researching all sorts of support to guide not only my child but her friends as well. I wanted to bring that support into my job too. After attending a 2-day training course on Mental Health First Aid I felt better equipped with the knowledge, skills, and confidence to spot the triggers and signs of mental health issues amongst the young learners and apprentices here at City Gateway. Since then, I have been providing support and signposting to self-help, or professional services.
Eugenie, Business Administration Apprenticeship Coach
Before COVID, Titus had hopes of getting a basketball scholarship abroad. The pandemic took away this opportunity from under his feet and forced him to reassess his options. After taking some time away from his studies and deciding that university wasn't for him, a friend recommended City Gateway. He joined the Route to Employment masterclass and was called for an interview for a role two weeks later. His advice to learners? "This wasn't my plan A, but you need to be realistic with your life choices and keep your options open. An apprenticeship is a good opportunity to test yourself in the real working world."
Ultimately, for these young people in the current climate, a City Gateway apprenticeship goes so far beyond a job opportunity – it's about building their confidence, feeling supported, and forging their own viable career path without the money worries.
We stand with City Gateway and their work to open these opportunities up to more Londoners so they can thrive. Find out how you can support more young people into a career by getting involved with the Skill Up Step Up programme.