Snow-Camp is a charity set up in 2003 that uses a combination of snowsports, life-skills sessions, qualifications and vocational opportunities to support inner-city young people aged 13-21 to broaden horizons and break down barriers. To date, the charity has supported 8771 young people from London, Bristol and Cardiff, Scotland and the Midlands. The London Community Foundation has been supporting Snow-Camp since 2008, and recently a few members of the team had the privilege of taking part in slope and skill sessions at Hemel Hempstead Snow Centre.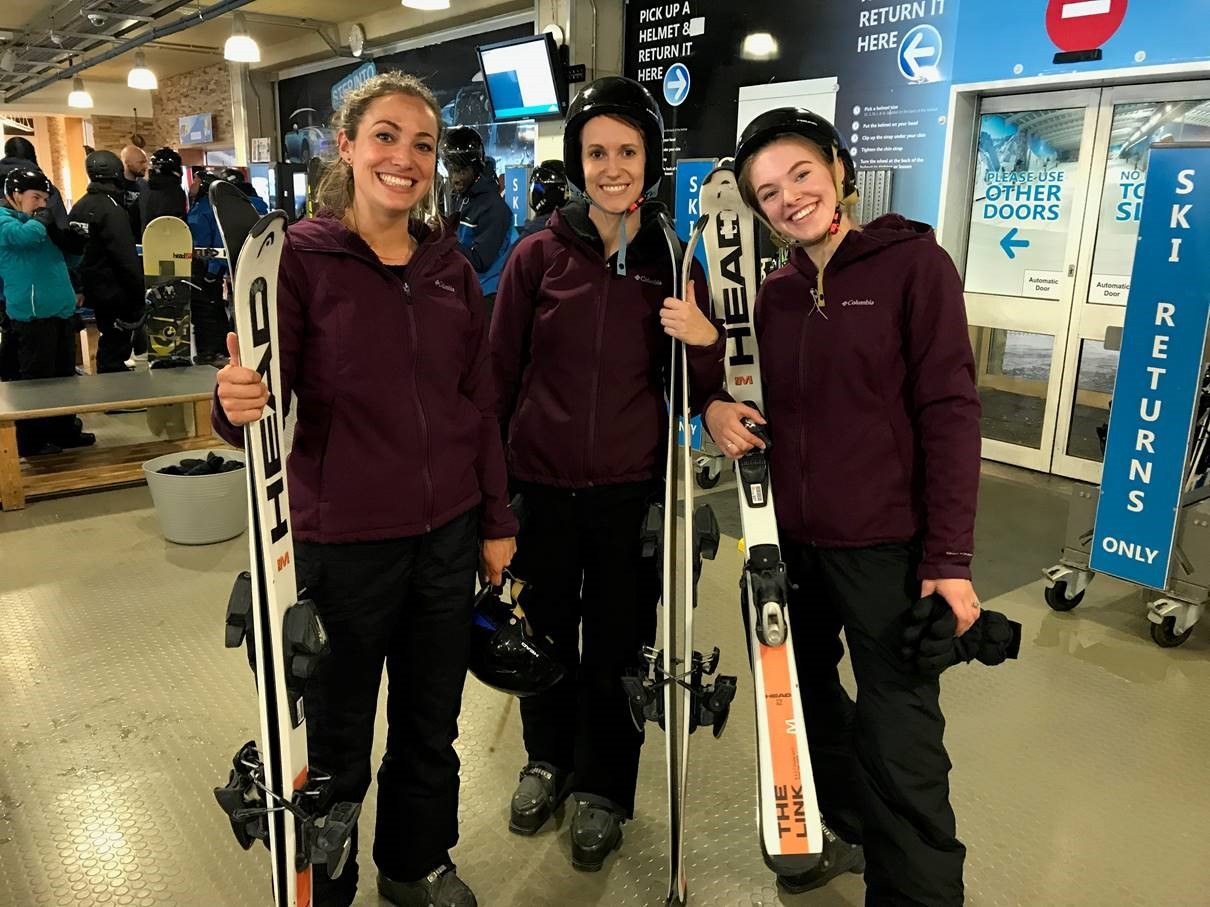 Cathryn, Lana & Sophie, LCF staff at Snow-Camp
Snowsports are out of reach for many young people but Snow-Camp believe they can be a very powerful personal development tool. Not only fun and exciting, they believe snowsports can be utilised to encourage young people to respond to challenges, deal with peer pressure, overcome fear, set goals for the future, make cross-borough friendships, travel abroad and broaden their horizons.

Will, aged 19, first heard about Snow-Camp from his Youth Worker at Streatham Youth and Community Centre. Having recently experienced being kicked out of college due to lack of attendance and being stabbed within a few days of each other, the accumulation of these events had started to affect him negatively. Despite never thinking about trying snowboarding before as he thought it was something you could never do in London as there is now snow and it's really expensive, he then turned his focus to Snow-Camp.
The following is Will's personal journey with Snow-Camp.
I first heard of Snow-Camp through my youth worker at Streatham Youth Centre. When I first got asked if I wanted to board or ski I was thinking, "What's happening? Where can you snowboard in London?" This is when Snow-Camp and the programme journey was explained to me and I haven't looked back since.
My life has changed a lot because I know if I wasn't at Snow-Camp now, I would have been doing nothing and hibernating in my house because my confidence wasn't as good as it could have been when I first started. Snow-Camp provided me with this fantastic opportunity to gain loads of qualifications, find a new passion in snowsports and try out a range of work experience placements. I knew when the opportunities with Snow-Camp came along I had to take them, as I knew that it was my best option all round for my future.
One of my favourite experience with Snow-Camp was when we went to Pila, Italy during the 16/17 Excel Programme, when I was training for my Level 1 Snowsport England Snowboard Instructor qualification. This was because I was struggling on a personal level, as I was always so closed up and away from people. In Italy I enjoyed being brought out of my shell, my confidence grew so much and I started to open up so much more and made new friends. This was great for me because this allowed my confidence to excel and I passed my Level 1 at the end of the training!
What needs to change? For Snow-Camp to get more funding so they can support 1000s more young people from estates like mine to get involved, so their lives can be changed for the better like they have for me.
Now, I am currently on the Snowsports Apprenticeship Programme with Snow-Camp, enjoying my time teaching other young people how to Snowboard who are on our youth programmes and supporting them in the life-skills sessions, this is one of the best parts of the programme. At the same time I am also improving my riding. As part of the apprenticeship I am studying an NVQ in Activity Leadership and also my Fitness instructors qualification.

I also really enjoy my work placement at The Telegraph in the Ski and Snowboard team and have been involved with helping to plan and organise the Ski and Snowboard Show at Battersea Evolution, this has taught me so many new skills about what it is like to work in the industry around passionate people.
My plans for the future are to finish my apprenticeship with Snow-Camp and then make decision with Snow-Camp's support on my next steps. All I know is that it will be snowsports related!