I stepped into the kitchen on a cold windy day and instantly my glasses steamed up from the glorious cooking fumes coming from the busy pots and pans. I was made to feel comfortable straight away by the bustling group of women welcoming Donna and I to take a seat and join their cooking session.
The healthy cooking sessions are part of a peer-led health and wellbeing project set up for women in Lambeth, with majority of participants being from the Muslim community. The wellbeing aspect is addressed through the women only fitness classes. This project is funded through the Lambeth Wellbeing Fund, which is a great collaboration between LCF, Lambeth Clinical Commissioning group (CCG), Lambeth Public Health and Optivo Housing Association. It is part of the CCG's 'Project Smith', which enables the community to find its own solutions to tackle isolation and improve health and wellbeing.
As I sat down, Nadia a member of the group started chatting to me about how much she enjoys cooking especially learning how to prepare dishes from different cultures, whilst cutting up some yummy fruit. Nadia is originally from North Africa and has lived in France where their style of cooking is very different to the various types available in London. This week they or should I say we (Donna and I were not going to pass up on this opportunity) were going to make sushi from scratch!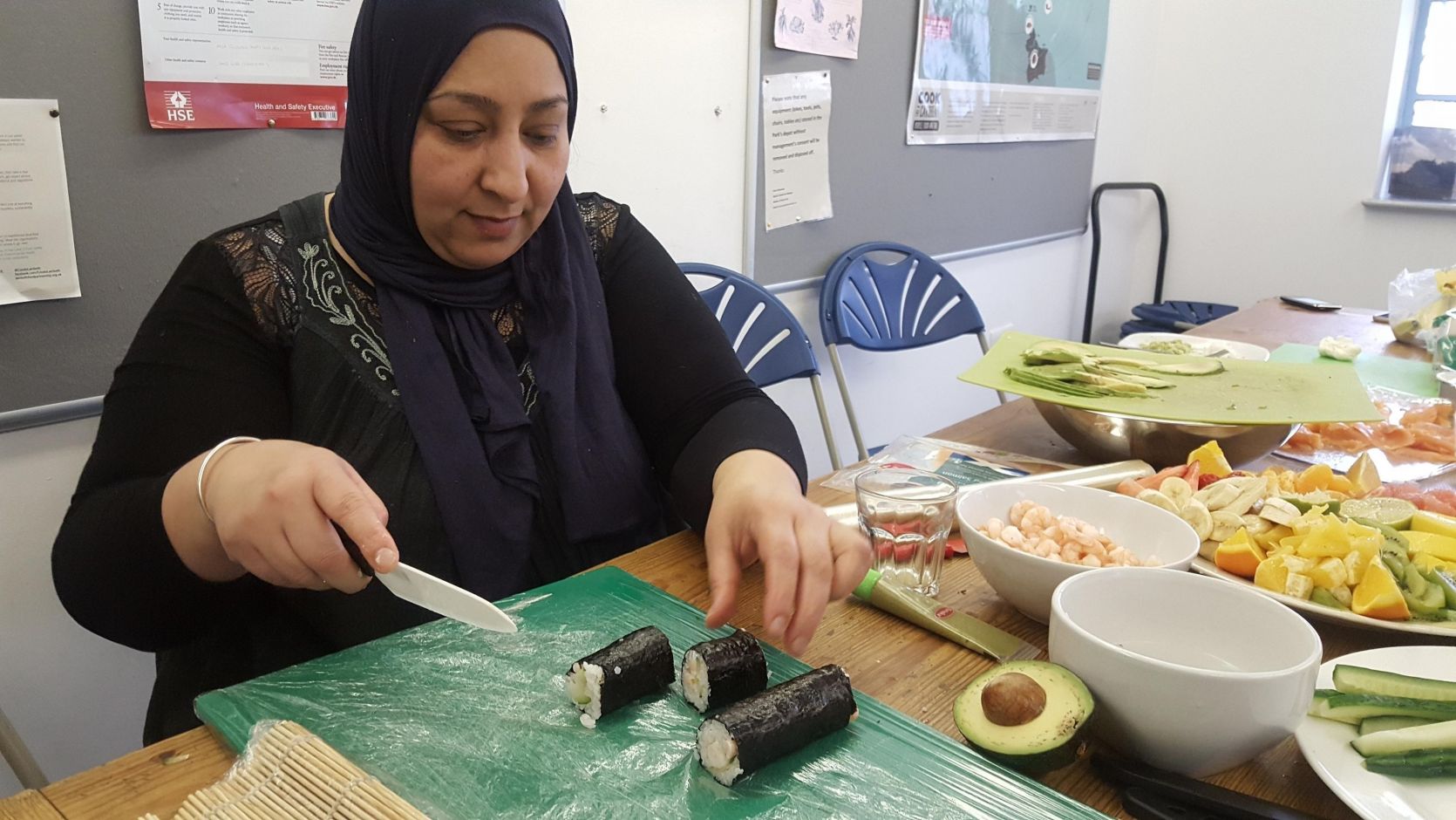 I think the photo below really captures one of the purposes of this group, which is to develop and enhance the women's cooking skills and ability to prepare healthier meals. Some of the women were more confident in rolling up the sushi than others but the important thing was to give it a go and have a laugh at the same time.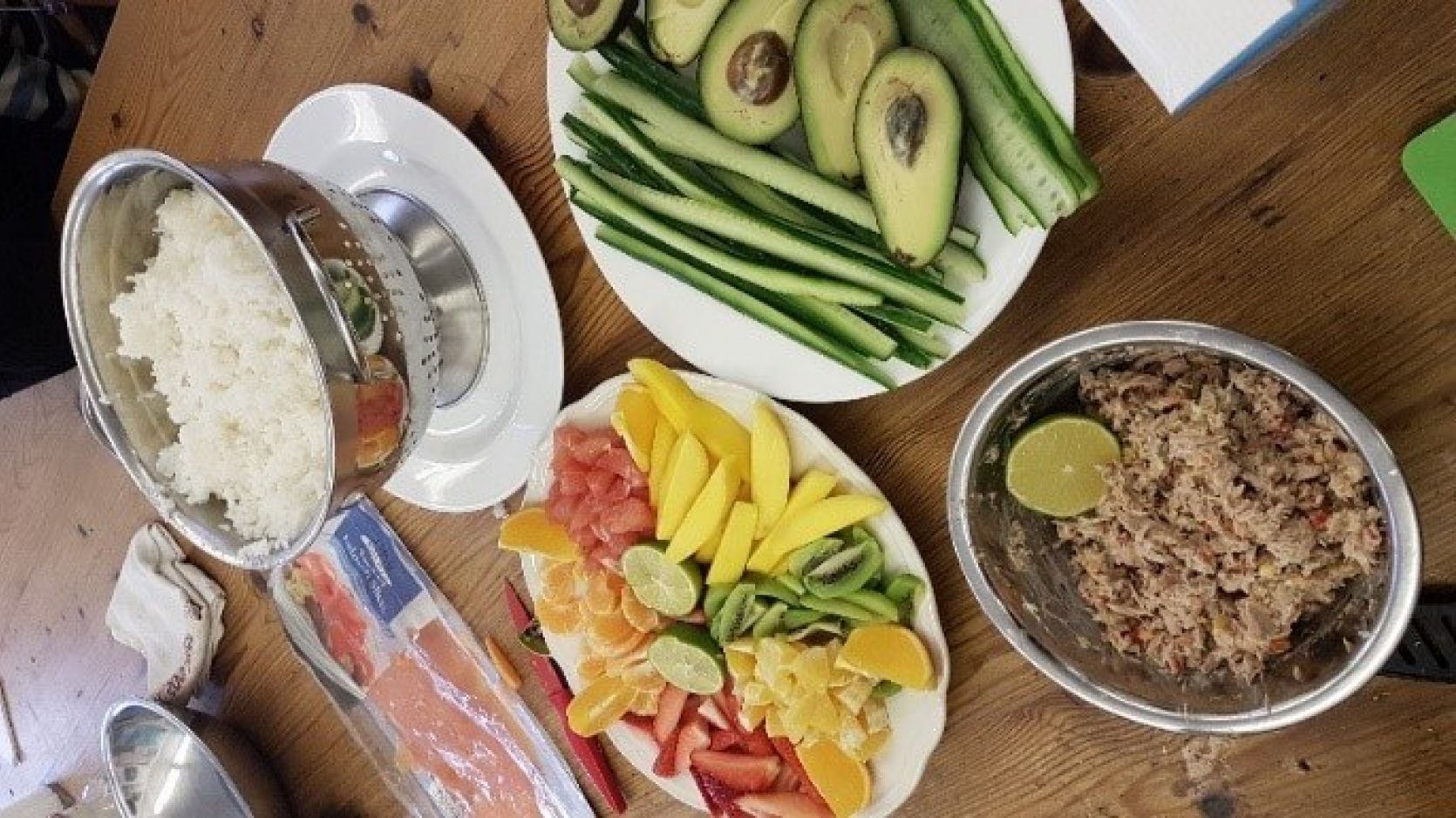 Malika Maza, who set up the women only healthy eating and fitness classes with the support of Paxton Green Time Bank (opens in a new window), explains to us the importance of this group:
I decided to put in place this group to respond to the needs of a community that was considered as 'hard to reach' – a community that hardly used the different services provided by their local authority because one of their most important socio-cultural needs remained unidentified – a specific socio-religious obligation which is socialising and interacting with women only.
Being a Muslim woman myself, I can understand why sometimes having a women-only environment is important and this shouldn't be seen as an attempt to hinder social integration but seen as an approach adopted to respond to a socio-cultural need in a sensitive and supportive manner. Given how multi-cultural London is, it is only natural that forms of socialising be multiple as well. I think it is vital to have environment where people are comfortable with their surroundings, which is exactly what this group offers. It gives women the space and time to socialise and interact with other women, gain valuable information about what support they can receive, build confidence in speaking English, become positive role models to their families and other women in the community and give them a sense of belonging to their local community whilst reducing feeling of loneliness and isolation. 
Not only did I learn how to prepare sushi from scratch, which, by the way, is not as difficult as it seems! I got to meet a group of women, who through their love for cooking are able to get together and enjoy the perks of feeling part of a community without any reserve. I think the beauty of funding this type of project is not to reach a certain end-point such as getting a job, but it is about the journey, which in this case not only acts as nourishment for their bodies but their minds as well.